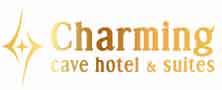 The famous Museum is a UNESCO-listed site containing a whole valley dedicated to a large religious community through to the 10th century. There are extensive underground spaces dedicated to feeding and caring for hundreds of people – kitchens, refectories, classrooms – and many churches and chapels.  Most of the churches are decorated with colorful fresco or secco technique wall paintings illustrating scenes from the Bible.  After more than 1000 years, these paintings using local and precious imported pigments in pigeons' egg-white are still fresh and vivid.
At Paşabağı (the Pasha's Vineyard) you'll see how fairy chimneys and natural caves were hollowed out and extended to become home for Christian monks and the famous hermit St. Simeon. Paşbağı is home to some of the most perfect examples of differently-shaped fairy chimneys.
Devrent – Imagination Valley
Here you will find Cappadocia's weirdest eroded rock formations.  With just a little imagination you'll see animal and human figures among the rocks.  Look out for camels, giraffes, elephants, the 3 Kings of Christmas and many more. These sites inspire some of the most fun and hilarious photos ever posted on Instagram!
Kaymaklı or Derinkuyu Underground City
Cappadocia is home to almost 40 underground cities developed over many centuries – these 2 are the largest and safest to explore. Both contain kitchens, workshops, churches, food storage, accommodation for people and animals – and elaborate defense systems to protect the peaceful inhabitants from invaders.
The castle is carved into the largest free-standing stone formation in Cappadocia.  Climb to the top for the best views of beautiful Mount Erciyes (Argeus)
This charming village was formerly known is Sinasos and is notable for its many stone houses decorated in the classic Greek-Anatolian fashion.  Greek and Turkish villagers lived side-by-side here until the 1923 population exchange agreed in the treaty of Lausanne.
This extensive monastery complex was developed from natural caves from the 7th to 13th century.  Set in beautiful gardens, it includes  a large refectory (dining hall) a sacred spring, many rooms dedicated to food storage and preparation and the twin churches of Saints Michael and Saint Stephen.  The churches are home to some of the most beautiful fresco paintings in all of Cappadocia, including rare depictions of everyday farming life.
Located near Şahinefendi,  this is a Roman era town which has only recently been discovered.  Turkey is full of as-yet-undiscovered treasures!  So far a large meeting hall with wonderful mosaics has been excavated, and there's also a bath-house with it's perfectly-engineered underfloor heating system in excellent condition.  Visitors have access to part of this site and can see history being uncovered by patient archaeologists.
The name means "with onions" but actually all kinds of fruit and vegetables are grown in the lush well-tended gardens. The village ladies are so proud of their work that they make a unique cute cloth doll representing themselves. The valley has been settled since before the dawn of recorded history and is still home to many fresco-decorated churches of the 10th to 13th century, .  Take a hike in e valley and enjoy a delicious lunch featuring local food.
One of the most spectacular points of this amazing terrain, laid down by millions of years of volcanic eruptions and sculpted through millennia of erosion until at last carved out by humans.  The Ortahisar panorama gives us a wide overview of the whole area.
Avanos town and pottery workshops
The historic town of Avanos, earlier known as Venessa, has been home to artists for at least 5000 years – shaping the rich red clay from the banks of the Kızılrmak River into practical and decorative pots. You can try it yourself with the help of a master.
Take the widest view across the Cappadocia landscape while you sip a refreshing fruit juice or çay (chay -Turkish tea) and catch the perfect photograph.
On the way look out for beautiful Hasan Dağı – one of the three volcanoes whose eruptions created the unique Cappadocia landscape.  Descend the steps into the 100mt deep Ihlara canyon and enjoy an easy 3,5km hike along the river.  The canyon has a lush microclimate and is home to beautifully-painted cave churches among the fruit trees. Stop for tea or fruit juice along the way, and enjoy a delicious lunch at the end of the walk.
Climb up the camel trail to the hillside refuge of Selime – formerly a huge and thriving monastery and later turned into a caravansary supporting travelers on the ancient Silk road.  This is the largest rock-cut structure in the whole Cappadocia area and is a great adventure to explore.
Gûvercinlik/Pigeon Valley
Güvercinlik Vadisi – the valley of the pigeons – for beautiful views down the valley and across to Uçhisar Kalesi (Castle) Cappadocia's best Nazar Boncuk (Evil eye Beads) tree is here, a great place for photos. You may wish to visit the Onyx workshop across the road for a demonstration of this fascinating craft and a special souvenir of your day.