Cappadocia is the ancient name of a large region in the center of Anatolia , although when we speak of Cappadocia today we refer specifically to the valleys of Goreme with natural pinnacles and rock churches.In this survey of Cappadocia's historical geography,the region will be examined in its entirety.Ancient Anatolia or Asia Minor,the large peninsula where modern Turkey is located , consist of several regions.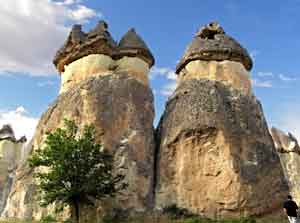 One of the most important was Cappadocia.Originally this region encompassed today's provinces of Kirsehir , Nevsehir,Aksaray,Nigde,Kayseri the eastern part of Ankara , the sothern parts of Yozgat and Sivas ,and the northern part of Adana.Cappadocia was neighbor to the Commagene to the southeast,Armenia to the east,Galatia to the northwest,Pontus to the north,Cilicia to the southand Phrygia and Lycaonia to the west.
According to the geographer Strabo(Strabo 539),who was born in Amasya and lived about 63BC,Cappadocia measured 1800stadia(332kilometers)north to south,from Pontus to the Tarus mountaşns,and 3000 stadşa(552kilometers)west to east from Lycaonia and Phrygia to the Euphrate.In other words,the region was demarcated geographically by the Black Sea to the north,the Taurus Mountains to the south,the Kizilirmak River to the west and the Euphrates to the east.The Tatta(Tuz Golu,Salt Lake)to the southwest marked the border between Phryhgia and Lycaonia.Lets check the video below.